With a little help from my friends - GameAWeek #4 Posmortem
---
This week was... ooof, this week. I felt sick most part of it, and had to remember something valuable through it: You don't need to do everything by yourself, it's ok to ask for help.
I made a lot of sketches of ideas (which you can see bellow), but they were either too boring or too hard to make. I ended up asking Wombat to use a code he had built for last week's theme. (He had actually offered it first, thanks Josh). It was a challenge, because I had never used Construct's Physics behavior, so tuning it for my needs got me reading a bunch of tutorials. I also asked my music partner, Pedro Reñé, to use one of his songs, which I recorded a few hours before deadline.
And that's it. What people mostly liked was my singing, which made me feel good :) It's not a good take, but I guess it's at least enjoyable.
Next week is our break week, so, take care you all :) See ya soon.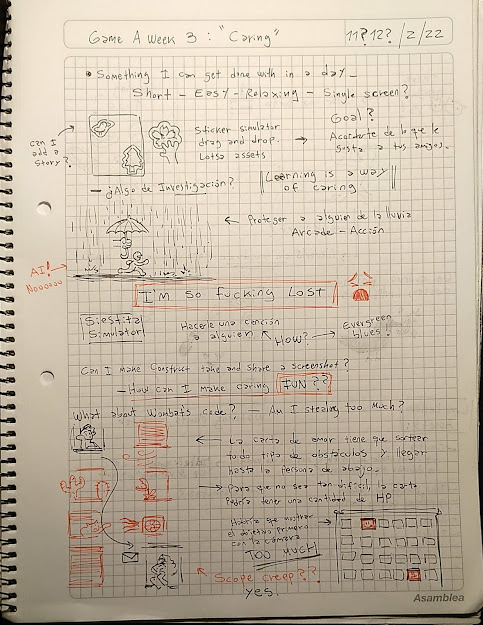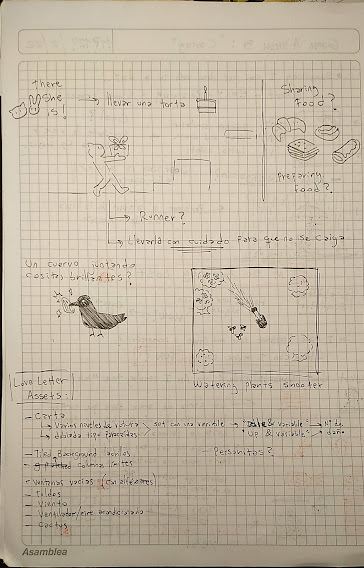 Files
GAW 4 - Caring.zip
Play in browser
Feb 16, 2022
GAW4 Source Code.c3p
2 MB
Feb 16, 2022